CALI'S SMOKEY BBQ RIBS Recipe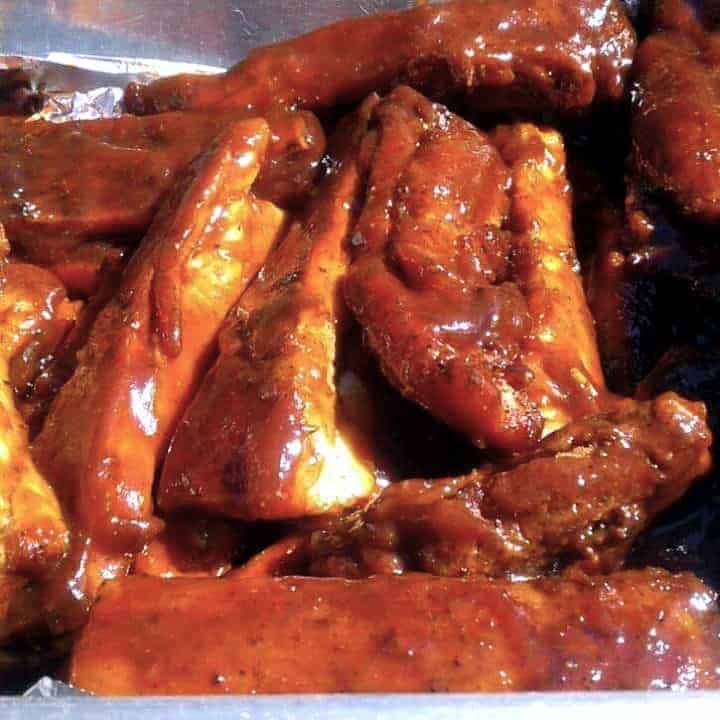 Rub Ingredients:
1-teaspoon- Lawry's Seasoning Salt
1-teaspoon- Lawry's Garlic Salt
1- teaspoon- Accent
1-teaspoon- Cayenne Pepper
1-teaspoon- Black Pepper
2-Caps of Hickory Liquid Smoke
Ingredients (Homemade)  (Measurements vary due to serving size)
2 cups ketchup
1/4 cup packed brown sugar
2 tablespoons honey
1 tablespoon Worcestershire sauce
1 tablespoon lemon juice
1 teaspoon Margarine
1/4 teaspoon  Hickory Liquid Smoke
1/4 teaspoon Garlic Salt
1/4 teaspoon Black Pepper
1-finger pinch of Accent
Directions:
*Rinse slab of ribs under cool water.

*Trim all excess meat(tips).

Hand rub all ingredients over the entire length of the slab of Pork Spare Ribs covering the top and underside.

Heat Grill to 350°.

Place slab of ribs on BBQ Grill.

Grill  for 2 hrs. (preferably a Moss Grill Double Barrel BBQ Pit)  

Slice into 12 bones and Hot Dip in Sauce.
CALI'S SMOKEY BBQ Sauce Recipe
Amount Per Serving –2 tablespoons. (Values differ per serving size)
Directions:
Spoon mix or wire whisk together all ingredients in a medium saucepan over medium heat.

Being to a boil and then reduce the heat to low. Allow to simmer until thickened, about 10 minutes.

Hot- dip individual ribs or allow to cool slightly and store in a sealed container in the refrigerator for up to a week.
Nutrition Facts:
Calories 114
% Daily Value*
Sodium 571mg24%
Potassium 226mg6%
Total Carbohydrates 27g9%
Sugars 24g
Vitamin A6.2%
Vitamin C3.3%
Calcium 1.8%
Cali's Smokey BBQ -Soulfood
Business Address:
4055 Mt. View Dr.
Anchorage, Alaska 99501
Mailing Address:
7920 Mayfair Dr. UNIT 4
Anchorage, Alaska 99502.