Fred Moss was just starting up his business in San Diego California in 2011. While working in his garage he got a phone call at his home. Fred was surprised to hear that it's Whoopi Goldberg.  Whoopi said that she was having a huge house party she was having at her home and needed a Moss Double Barrel Custom BBQ Grill.
In his excitement Fred shouted to his family…
Goldberg went on to explain that she was planning a huge party and needed some custom bbq pits. Whoopie asked "… what it would cost to ship both grills fully assembled?" Her solution was to invite Fred to her house to assemble them on-site personally. Fred flew from San Diego to New York, then drove to Whoopi's New Jersey home. Fred was honored and very delighted to visit Whoopi in person.The unassembled custom BBQ grills were waiting for him in the backyard.
On meeting Whoopi Goldberg at her door, they got some selfies, and began to assembled her custom grills. Once her grills were ready for the party they hung out for a few hours.
Fred told Whoopi that he was a Navy veteran. He told her some of his local veterans couldn't find work. So he hired as many as he could. The veterans now help him fulfill customers orders.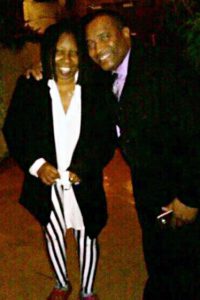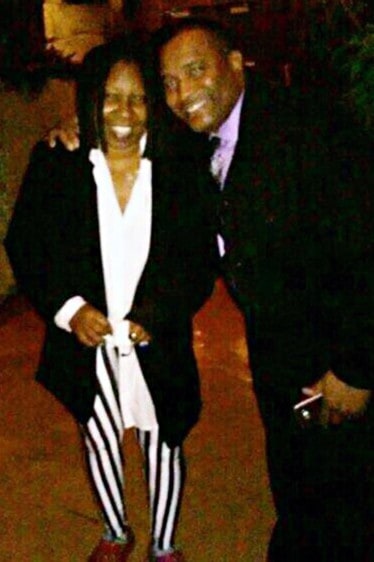 Whoopi made arrangements for Fred Moss to appear on the ABC News segment Made In America with Diane Sawyer.  Because of that segment, Moss Grills has enjoyed popular notoriety across America — well beyond their wildest expectations.
Whoopi continuous support has helped a Veteran Owned Business owner do positive things to keep manufacturing in the USA a continuing success. Moss grills is very proud to say its Made in the USA!
Whoopi's Grill
Fred Moss has even delivered custom Moss Grills
to other members of Whoopi's family,
like Alex & Bernard Dean.