Moss Grills as his crew of Santa's helpers are hard at work making
 this special Christmas Gift
 for Mr. Mike Shaw in Painesville, Ohio. 
Mike's new Moss Single Barrel Barbecue grill will arrive in time for Christmas. Complete with Custom Logo of his  company,
Shaw Studio
.
Mike decided to add his Custom Logo onto his barbecue Grill. Shaw Studios is a pottery business were Mike is famous for creating some of the world's best potteries in the Cleveland, Ohio area.  
Mike's also famous for some of the best barbecue from briskets to ribs, to hot dogs. His creative BBQ techniques includes some specialize smoking with different logs and mesquite logs along with mesquite charcoal briskets to add that extra taste while smoking on a Moss Grills Pit.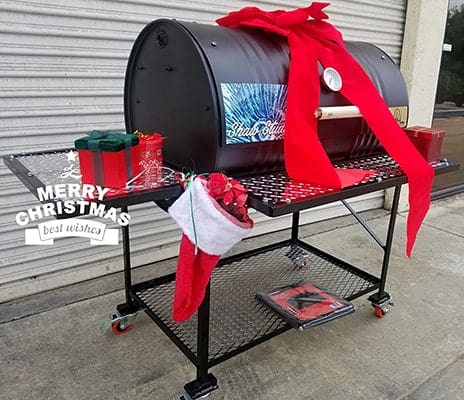 Mike's originally from Manchester, Missouri. Fred Moss and Mike Shaw became good friends as they attended high School together in Manchester. Both were graduated from Parkway South High. Home of the Patriots, Class of "86".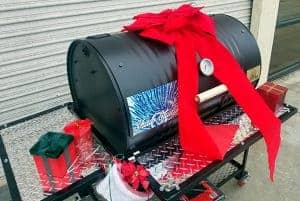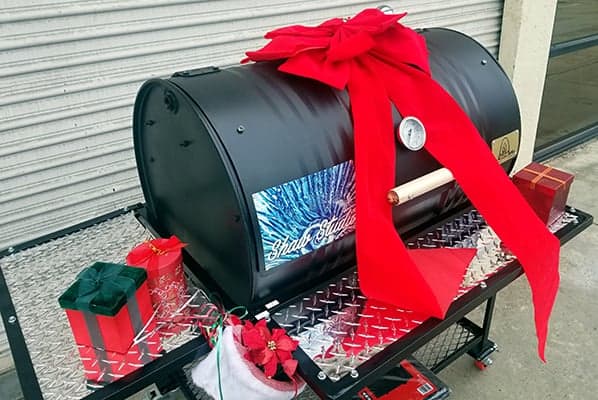 Mike's is getting a new Moss Grills Single Barrel Smoker. It comes with a self chambered charcoal holding system that allows air to clearly circulate easy from the bottom of the barrel to the coals and logs themselves providing a clean burn which has an outstanding effect of grilling and smoking meats.  The grill also has a smoke stack, sliding cooking grates which makes it easier for the consumer to turn their meats from the outside of the barbecue grill itself. Mike will enjoy sliding the meats out on the cooking grates while cooking avoiding smoke and flames on the fingers.  This grill is for Mr. Mike T Shaw. Merry Christmas Mike!